Welcome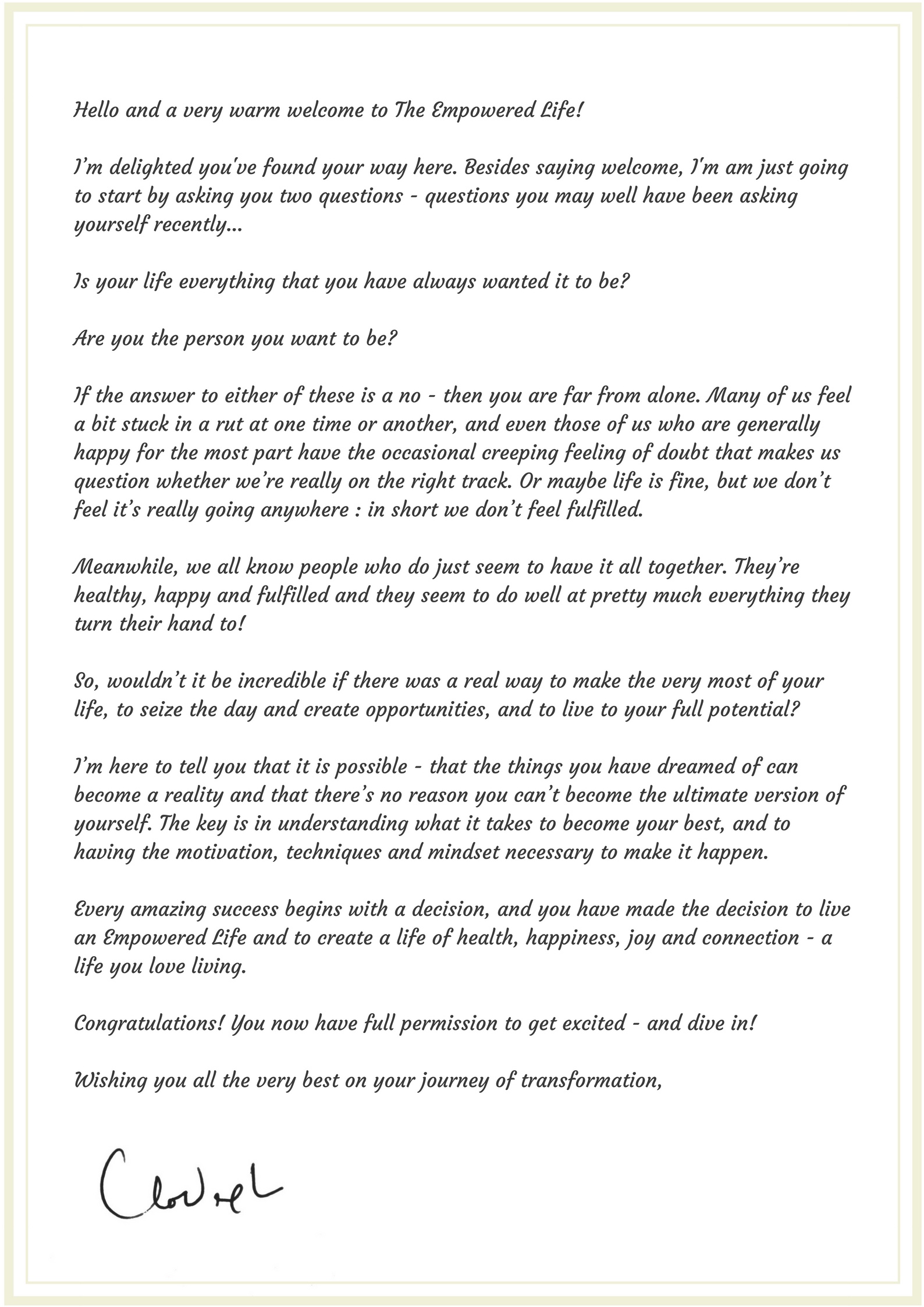 Some practical notes to get the most out of 'The Empowered Life' :
'The Empowered Life' is made up of 10 modules. Each module focuses on a different topic and has some text to read, a reflection exercise and a guided meditation which will be used as tools for transformation.
Some modules have sub-topics and some don't - but I hope they have been broken down in a way that's easy to manage.
Ideally you need to spend at least a week, ideally more, on each module before moving on to the next. This is in order to allow yourself time to make the changes you decide upon - and even by making small changes I can assure you that you'll be creating different outcomes. The key is to take your time, and not to try too many things at once, as by doing so you'll find it hard to create lasting habits. But by learning new habits one by one you will be much more likely to keep them up.
Texts: These will provide food for thought, ideas and suggestions to help you become more aware of how things currently are in your life, and to explore how you might expand your awareness or do things differently.
Reflections: We will use reflection time to take this process further. You will need a book or journal to write in - I'd advise you to go and get one specially for your Empowered Life journey, but you're welcome to use your current journal if you already have one. This is an important part of the process of transformation, so in order to get the best results make sure you allow sufficient time to consider the reflection points. Your journal is also important because you'll need your notes to refer to when you get to Module 10. Again, there is no benefit in rushing or cutting corners!
Meditations: The guided meditations are all less than 7 minutes long and have been designed to guide you into a peaceful state, free from your habitual stream of thoughts. Don't worry if you've never meditated before. All that's required is that you get yourself in as quiet and calm environment as possible, free from all distractions, and can comfortably listen, ideally with headphones. In some modules in particular this process is a key to opening up new awareness and new possibilities. You may wish to come back to some of the meditations again.
Action points: The action points are a way of helping you make the changes you desire as a result of your reflection and meditation. It's great to make a note of everything in your journal, and I've designed an Action template so that you write down what you've taken on and review how you're getting on. By writing things down your commitment will be stronger, and this way you can also celebrate your progress, which is an important part of the process as well! You can use this template in your journal but you may want to save it on your pc too so you can continue to add to it in more detail.